Educational Programmes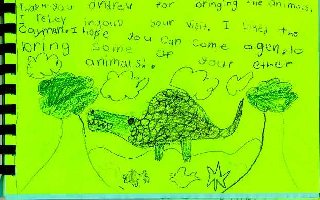 Among the many things which occupy my time are the educational programmes I do in local schools. I have done programmes for all ages, but generally the earlier grades enjoy the programmes most. I do programmes on native herps, Canadian herps, exotics, Madagascar, conservation, evolution, and taxonomy. For grade school children this generally involves an assortment of live animals, some of which they have the opportunity to touch or hold. I do charge for my programmes, unless the class' budget doesn't permit. The card above is one in a booklet given to me by the grades one and two at Valleyview Elementary in Calgary. On that day, they were the only ones booked, but I ended up doing six more free presentations by 1:00 pm!

---
---
MAIN

MANTELLAS
ASIAN NEWTS

PHOTOS
ARTWORK
HERP LINKS

BOOK STORE

---
Andrew Clark
geotrypetes@hotmail.com
Calgary, Alberta
Canada
---

This page has been visited
times.